Crochet has had an awakening in recent years, with fingering weight yarn becoming more widely used in stunning patterns. But what the heck is fingering weight yarn anyway? I'm here to tell you all about it!
In this post, learn more about this yarn weight, find value-priced alternatives for the expensive stuff, and get inspired by 16 gorgeous fingering weight crochet patterns.
This post contains affiliate links that support the content on TLYCBlog.com. All opinions are my own. Find my Privacy & Disclosures Policy here.
What is Fingering Weight Yarn?
Fingering weight yarn is the second lightest yarn out of 8 standard yarn weights. Also called superfine, sock, and sometimes baby yarn, fingering weight yarn is just slightly heavier than lace weight yarn and lighter than sport weight yarn.
It has a yarn weight symbol of 1 and can be found in minis (often 20-30 grams), half skeins (about 50g), full skeins (typically 100g), and jumbo skeins (anything over 100g). On average, superfine yarn will have 380-460 yards per 100 grams, with the most common skeins sold in the U.S. being about 400 yards per 100g skein.
The fine gauge of fingering weight yarn makes it very versatile and ideal for projects that you want to be detailed without being heavy. Shawls and socks are an obvious choice for superfine yarn, but you can also make delicate blankets and wearables out of lightweight yarn.
If you have yarn on hand that is missing a label, the easy way to find its weight is with the wrap test. The wrap test involves wrapping the yarn around a ruler a number of times. The yarn weight is based on how many times you can wrap the yarn within one inch. For fingering weight yarn, you should get 12-18 wraps per inch. Learn more about the wrap test HERE.
Fingering Weight Yarn and Crochet
More and more crocheters are warming up to the idea of finer yarns. With so many fingering weight yarns available commercially and from independent dyers, it's no surprise that crochet patterns and projects using these yarns are popping up everywhere.
Superfine yarn is a great choice for crocheters for so many reasons. Though crochet is often criticized for the thicker fabric it creates compared to knitting, that same thicker fabric results in a beautiful drape when using a finer yarn. Crochet also works up relatively quickly, allowing you to zoom through a skein of superfine yarn in no time. My favorite feature of fingering weight yarn is that it encourages crocheters to experiment with colors and fibers that are not often advertised to us.
16 Fingering Weight Crochet Patterns
Shawls + Wraps – Crochet shawls are an obvious choice for fingering weight yarns. They are great at showing off color, texture, and shape while highlighting the unique features of a yarn.
Clockwise from Top Left: Adventure Shawl, Coles River Kerchief, Despite, and the Flatiron Shawl.
Socks – Believe it or not, crochet socks are a thing! Find a superfine yarn with a touch of nylon in it to make these socks durable and beautiful.
Clockwise from Top Left: Slip Stitch Cuff Socks, Festival Socks, Tadasana Yoga Socks, and Butterfly Socks.
Blankets – Fingering weight blankets make for an unbelievable lightweight fabric that is perfect for any season. Try using mini skeins of yarn for a fun motif pattern.
Clockwise from Top Left: Caramel Whirl Blanket, Battenburg Blanket, Baby Snug, and Medina Mosaic Tiles.
Wearables – Crochet wearables aren't just for the summer. Using fingering weight yarn means you can sport your crochet tanks, sweaters, and cardigans anytime.
Clockwise from Top Left: Tessellation Tee, Wonder Cardigan, the Honeycomb Tank Top, and the Goldenrod Sweater.
Substituting Fingering Weight Yarns
Hand-dyed superfine yarn is all the rage right now. But, what if you don't want to spend $100+ to make a magnificent sweater? Here are 18 fingering weight alternatives to sub for the pricer hand-dyed yarns.
Not all fingering weight yarns are created equal, so be sure to check your gauge BEFORE starting your project!
NOTE: All prices are regular full price. Click the title links to see if any of these yarns are on sale.
Yarn Specs: $3.49 from Michaels; 678 yards/ 100g ball; 85% acrylic and 15% nylon.
Yarn Specs: $5.99 from Michaels; 166 yards/ 50g ball; 75% washable wool and 25% nylon.
Yarn Specs: $11.99 from JOANN; 623 yards/ 150g ball; 55% acrylic and 45% cotton.
Yarn Specs: $6.46 from Lion Brand; 437 yards/ 100g ball; 82% acrylic and 18% polyester.
Yarn Specs: $3.99 from WeCrochet; 218 yards/ 50g ball; 75% Pima cotton and 25% acrylic.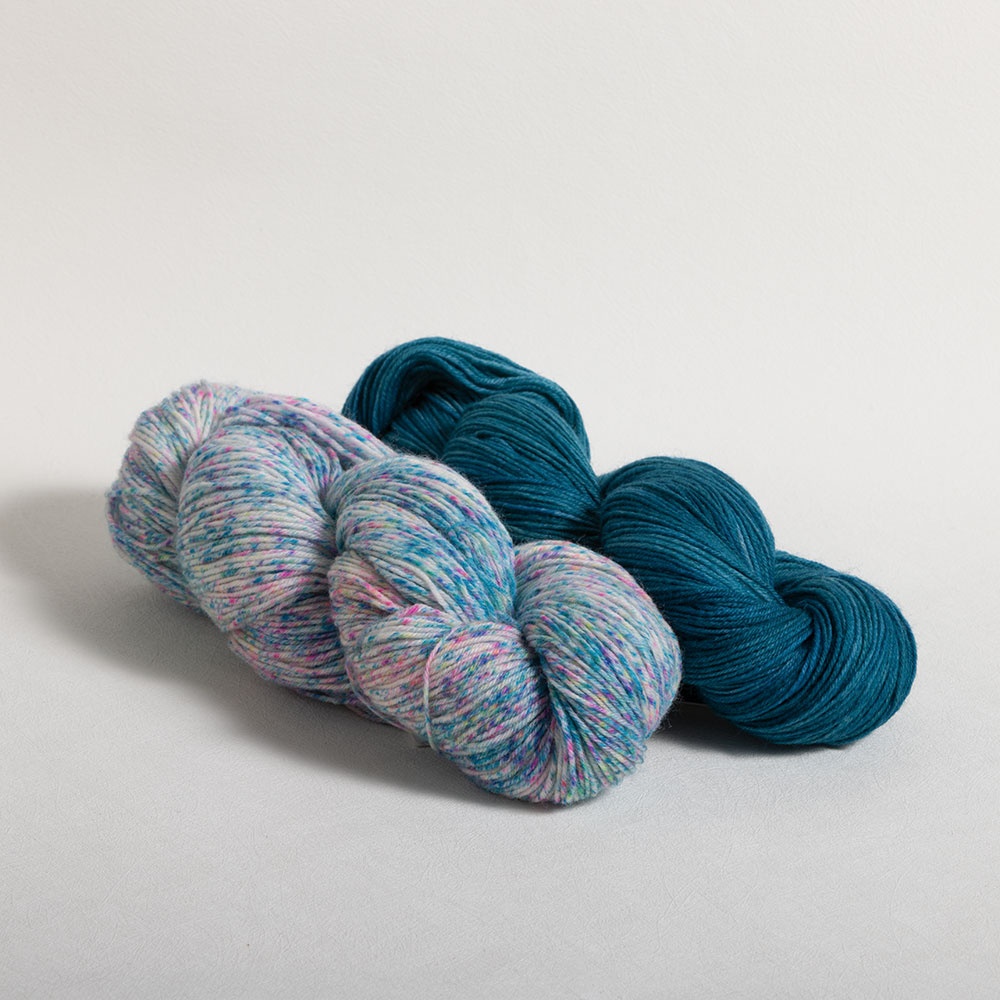 Yarn Specs: $15.99 from WeCrochet; 423 yards/ 100g hank; 75% superwash merino wool and 25% nylon.
Yarn Specs: $3.49 from LoveCrafts; 186 yards/ 50g ball; 100% cotton.
Yarn Specs: $29.99 from LoveCrafts; 1094 yards/ 224g ball; 60% cotton; 40% acrylic.
Yarn Specs: $10.99 from LoveCrafts; 437 yards/ 100g hank; 75% merino wool; 25% nylon.
Yarn Specs: $20 from LoveCrafts; 420 yards/ 100g hank; 100% merino wool.
Yarn Specs: $4.99 from Premier; 235 yards/ 50g ball; 93% acrylic, 7% PBT.
Yarn Specs: $4.49 from Premier; 246 yards/ 50g ball; 46% cotton, 33% superwash fine merino, 12% polyamide, 9% PBT.
Yarn Specs: $9.95 from Yarnspirations; 164 yards/ 50g ball; 80% baby alpaca, 20% mulberry silk.
Yarn Specs: $9.99 from Yarnspirations; 1100 yards/ 200g cake; 50% cotton, 50% acrylic.
Yarn Specs: $10.95 from Yarnspirations; 219 yards/ 25g donut; 76% super kid mohair, 24% silk.
Yarn Specs: $8.99 from Hobbii; 505 yards/ 100g cake; 98% premium acrylic, 2% polyester.
Yarn Specs: $4.90 from Hobbii; 186 yards/ 50g ball; 100% Egyptian cotton.
Yarn Specs: $10.49 from Hobbii; 437 yards/ 100g donut; 70% superwash wool, 30% polyamide.
---
I hope this post helps you feel more confident about trying fingering weight yarn and substituting it in your favorite knit and crochet patterns. Have you tried any of the yarns or patterns mentioned here? I'd love to hear about your experience with fingering weight yarn in the comments!
---
Fingering Weight Yarn Q & A
What is fingering weight yarn?
Fingering weight yarn is the name for category 1 yarn. It is slightly heavier than lace and slightly lighter than sport. It is often used for shawls and socks, though you can knit or crochet anything with it.
Can you crochet with light weight yarn?
Yes! You can crochet anything with lace, fingering, and sport weight yarns. Popular projects would be socks, shawls, sweaters, and blankets.
What are the different yarn weights?
In order from lightest to heaviest, the different yarn weights are 0 – lace, 1 – fingering, 2 – sport, 3 – DK, 4 – worsted, 5 – bulky, 6 – super bulky, and 7 – jumbo.
How do you know what weight yarn to use?
Most knit and crochet patterns will tell you the yarn weight and yardage needed for your project. If you are not using a pattern, use the yarn weight you like the most. It is a good idea for beginners to stick with DK weight and worsted weight yarns, as these are easy to find and easy to work with.
What yarn is best for beginner crochet?
Beginner crocheters should use DK weight or worsted weight yarns, which are easy to find in big box stores, and easy to use. You can make just about anything with DK and worsted weight yarn, from baby items, to accessories, wearables, and home decor.
What does number 1 yarn mean?
Number 1 yarn refers to fingering weight, which is a category of yarn. This yarn is slightly heavier than lace and slightly lighter than sport. It is often used in knitting and crochet to make shawls and socks, though you can make anything with it.