Yarn is a crocheter's best friend. Choosing, collecting, and storing yarn is basically a hobby within itself. In this guide, you'll learn the best yarns for crochet beginners, which yarns to avoid, and some important characteristics of yarn to make crocheting even more fun.
This post contains affiliate links that support the content on TLYCBlog.com. All opinions are my own. Find my Privacy & Disclosures Policy here.
Learning to crochet is tricky enough. Don't make the process harder by choosing the wrong yarn. But, with so many beautiful yarns on the market, how do you know which is best for the learning process? Here are some tips on how to avoid the wrong yarns and choose the best yarns for crochet when beginning your journey.
---
Yarns to Avoid When Learning Crochet
1 // Highly Textured Yarns
Textured yarns are super pretty but it's really tough to see your stitches, especially as a beginner.
What To Use Instead: Look for a smooth yarn with the same even thickness throughout the skein.
2 // Dark Colored Yarn
Like textured yarn, yarn that is too dark makes it tough to see your stitches.
What To Use Instead: Look for a yarn with a neutral or pastel color that's easy on the eyes. I recommend sage green, light tan, or medium brown.
3 // Yarn that is Too Thick or Too Thin
Very thick yarn can be tough to manipulate because of its weight. And very thin yarn makes it tough to see stitches and is susceptible to tangles.
What To Use Instead: Look for a category 4 – worsted or category 5 – bulky weight yarn. Both are easy to find and work with.
4 // Single Ply Yarn
Single-ply yarn is often loosely spun, making it susceptible to splitting. It's also very difficult to unravel if you've made a mistake.
What to Use Instead: Look for a yarn with a tighter twist and at least 2 plies (keep reading to learn more about plies!).
5 // Variegated Yarn
Though very pretty, variegated yarn looks like a labyrinth to the untrained eye. It will be very tricky to learn crochet with a yarn like this, as the pattern is much too busy.
What To Use Instead: Find a solid colored yarn that is the same color throughout the skein.
---
What Are the Best Yarns for Crochet Beginners?
After hundreds of hours of teaching crochet, I've learned a thing or two about what yarn makes learning crochet a little easier. When looking for a yarn to learn crochet with, look for these features:
Worsted (category 4) or bulky (category 5):
These yarns make it much easier to handle the yarn and see your stitches. Since you can see your stitches without holding the fabric too close to your face, you're more likely to be relaxed and focused.
Smooth, plied yarn:
Look for a yarn with a smooth texture throughout. You should be able to easily identify the individual strands. A plied yarn means that a single strand consists of several strands twisted together (often between 2-12 individual strands "plied" together). Plied yarn means you'll have better stitch definition, thus being able to see your stitches better.
Gentle, solid color:
By gentle color, I mean anything that is easy on the eyes. My students typically go for pastels, especially sage green or lilac, or neutrals like tan or medium gray. Also, be sure to choose a color that is solid throughout the skein. Choosing a gentle, solid color allows you to focus on your stitching and not on how hard it is to see and understand your crochet fabric.
Inexpensive:
The beginning stages of crochet involve a lot of trial and error. That means you'll likely unravel and re-crochet the same yarn over and over again. Go for an inexpensive yarn when learning so you don't feel bad about the beating that yarn might take. Once you get the hang of things, it'll be easy to transition to pricier yarn.
Notice that I did not mention yarn fiber in this list. If you're able to find a yarn that meets all of the criteria mentioned above, it doesn't really matter what the fiber is. Go with your preference between animal fibers, plant fibers, and acrylic fibers.
---
8 Yarns for Crochet Beginners
Now that you know what to look for, here are some recommendations of yarns that work well for crochet beginners.
1 // Paintbox Cotton Aran
Specs: $3 per 93-yard skein / 100% cotton / Worsted weight
Hook recommendation: 5mm
2 // WeCrochet Swish Worsted
Specs: $6 per 110-yard skein / 100% superwash merino wool / Worsted weight
Hook recommendation: 5.5mm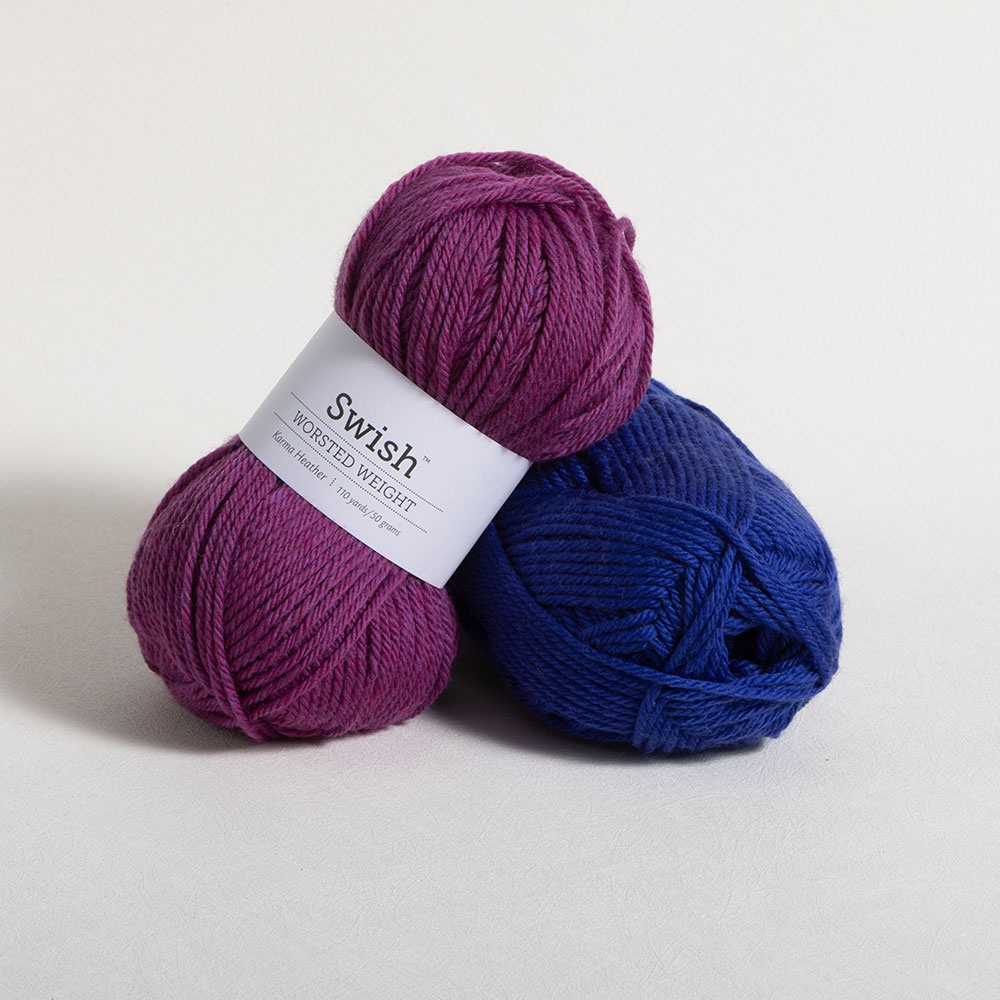 3 // Red Heart Soft Essentials
Specs: $7.49 per 131-yard skein / 100% acrylic / Bulky weight
Hook recommendation: 6.5mm
4 // Lion Brand Hue + Me
3 // Red Heart Soft Essentials
Specs: $6.99 per 137-yard skein / 80% acrylic, 20% wool / Bulky weight
Hook recommendation: 6.5mm
5 // Cascade 220
Specs: $11.50 per 220-yard cake / 100% wool / DK weight
Hook recommendation: 4.5mm
6 // Hobbii Amigo XL
Specs: $3.95 per 109-yard skein / 100% acrylic / Worsted weight
Hook recommendation: 5mm
7 // Lion Brand Pima Cotton
Specs: $6.99 per 186-yard skein / 100% cotton / Worsted weight
Hook recommendation: 5.5mm
8 // Big Twist Value
Specs: $3.99 per 380-yard skein / 100% acrylic / Worsted weight
Hook recommendation: 5mm
---
What Else Should I Know About Yarn?
There's a world of knowledge about yarn that you can easily get lost in. If you really want to nerd out on yarn, you can learn more about different fibers and their origins, yarn dyeing processes, and how the number of plies impacts the crochet experience.
Some crocheters are here just to make it to the finish line and some like to be a bit more deliberate. Here, I'm sharing some basic knowledge about yarn that you may want to know, but you can always do further research on your own.
Yarn Fiber Basics
Fiber content refers to what the yarn is actually made of. Fibers fall into 3 main categories:
Animal fibers – wool, alpaca, cashmere, etc. Benefits: warm, elastic, breathable. Disadvantages: can be irritating to the skin, cost prohibitive, special care instructions, tough to find in big box stores.
Plant fibers – cotton, bamboo, linen, etc. Benefits: moisture-wicking, breathable, sustainable. Disadvantages: heavier fibers, inelastic, color can fade.
Synthetic fibers – acrylic, nylon, polyester, etc. Benefits: affordable, accessible, easy-care. Disadvantages: environmental impacts, pilling issues, wide variation in quality.
One yarn store may have dozens of yarns with different fiber contents, so pay close attention to the label, especially if you have allergies to any of the fibers present. Also, different fibers come with different care instructions.
Yarn Weights
There are two kinds of weights associated with yarn. One weight is measured in grams and ounces. That speaks to how much the yarn in an individual skein/ball weights. The other kind of weight is how thick a single strand of yarn is. This weight is represented on a scale from 0 – lace weight to 7 – jumbo, placing every yarn into a category. Worsted and bulky weight yarns are considered the best yarns for crochet beginners because they fall right in the middle of the list.
The Craft Yarn Council is a magnificent resource for understanding yarn weights and their associated hook recommendations. Their handy guide on yarn weights also explains the different names of each category. For example, category 4 – worsted weight is also sometimes called "medium" or "aran".
Yarn Put Up
Yarn put up describes the way the yarn is presented for purchase. Most often you'll find yarn in the store in bullet skeins, twisted hanks, pull skeins, and donut balls. More and more yarns are being found in cones again, especially cotton yarns.
We makers have some pretty bad habits when it comes to using the right terms for put ups (I, for one, still call bullet skeins balls – I just can't stop!). For the most part, it doesn't really matter what you call the put up, but it's nice to know the correct terms.
Yarn Plys
A yarn ply is a single strand of yarn. Often, multiple strands of yarn are twisted together, or plied, to create a single strand of commercial yarn. Single-ply yarn exists as well and is very popular.
The yarn manufacturing process is very complex. With so many companies making yarn, individual companies may get creative with the way the yarn is constructed. Wool yarns are sometimes blended with nylon to add strength, making them perfect for socks. Mohair and silk are often plied together for a hazy, luxuriously soft yarn. When shopping for yarn, take a close look at the yarn label to understand the fiber content, and don't be afraid to pull the plies apart (gently!) to better inspect the yarn.
Yarn plies are used to describe how many individual strands are in the yarn, but you might also come across yarn plies being used to describe yarn weights (dk, worsted, etc.). Some countries, the UK and Australia especially, still do this. If you're ever confused on how a UK yarn ply relates to a US yarn weight, check out this table from Ravelry.
Yarn Storage and Finished Project Care

Caring for your yarn is imperative to ensure that your hard earned money doesn't go to waste. When it comes to yarn, keep new yarn in the put up that it came in until you plan to use it. This ensures that the yarn doesn't lose its elasticity. Keep yarn in a cool, dry place. If you're partial to cotton, try keeping it out of the sun so it does not fade. Bookshelves and storage containers are great places to keep yarn. Avoid keeping yarn in plastic bags – this can encourage yarn to retain moisture and mildew.
One piece of information that you'll find on 99% of yarn labels is care instructions. Some labels spell out the instructions in text, while others may have the instructions in symbols. Not familiar with care symbols? Check out this post from the Craft Yarn Council.
Care instructions vary, mainly based on fiber. Here is a great rundown of care instructions by fiber from Spruce Crafts via SigoniMacaroni.com:
Superwash wool can be hand or machine washed on the gentle cycle in cold water.
Regular wool must be washed by hand in cold water, or it will felt and shrink.
Cotton and linen yarn can be washed in the washing machine on a gentle cycle using either cold or warm water.
Acrylic and other synthetic yarns can be washed and dried in with your regular laundry as they do not shrink.
Unknown fiber content items should be hand washed in cold water and laid flat to dry.
---
Yarn Q&A
What are the best yarns for crochet beginners?
An inexpensive, smooth, worsted or bulky weight yarn in a single color is the best choice for crochet beginners. Choose a fiber that you like (acrylic, wool, or cotton, typically) and a neutral or pastel color. I like to go for a sage gree 100% superwash merino wool, as it has great stitch definition, it's easy to see your stitches, and the yarn is very smooth.
What weight of yarn is best for crochet blankets?
If you are a beginner crocheter, I recommend going with a category 4 – worsted or category 5 – bulky weight yarn to make blankets. Yarns like these are easy to find in the store and online, and they are easy to handle. Bulky weight yarns also work up very quickly so you can complete a blanket from start to finish in a weekend. If you are feeling more adventurous, try making a delicate blanket from fingering weight yarn, or a super cozy blanket from jumbo weight yarn.
What is the best quality acrylic yarn?
Acrylic yarn has come a long way. These days, you can easily find high-quality, luxuriously soft acrylic yarn in craft stores and online. Some recommendations to try would be We Crochet's Brava, Lion Brand's Wool-Ease Thick & Quick, and Berrocco's Comfort.
Can you use crochet yarn for knitting?
Technically, there's no such thing as "crochet yarn". The term crochet yarn is typically used to describe very fine cotton thread, mainly used by crocheters to make blankets and other heirloom projects. This yarn can be knitted, crocheted, and applied to any number of yarn and craft projects.
Is acrylic yarn safe?
Acrylic yarn is a synthetic, man-made material. While acrylic yarn is praised for its versatility, accessibility, and value, there is a downside to this popular fiber. Acrylic yarn is flammable and melts into plastic. This may give you pause when gifting items made for babies. Acrylic is also produced with harsh chemicals that can have an impact on our health and our environment. Learn more about acrylic yarns and alternatives in this article from The Creative Folk blog.
Have more questions? Drop them in the comments!